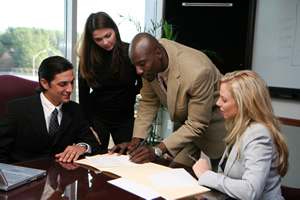 Forming a New Business
Thinking of being your own boss…then start your own business!!!
Opening your own business is exciting and challenging.  But what comes next determines if a small business will survive.
With a detailed business plan in effect your businesses success will be determined by its structure.
We will help you...
Determine a business structure that best fits your needs, tax advantages, limiting your liabilities, and asset protection.
Select the accounting software that fits your business needs.
Prepare Pro Forma Reports to determine income  and cash flow budget so you know how much money you need to start up and fund the business in the beginning. 
Prepare and file required state, local licenses, and permits
Prepare and file your application for a Federal Employer Identification Number.
Establish billing and collection procedures to maximize cash flow.
Determine if a home office deduction is available to maximize your tax deductions.
Provide payroll and payroll tax filing services
Provide 1099 reporting for your sub contractors.
We will get your business off and running with you right from opening day
Please complete the form below to learn more about  Forming your new business.
---
David P. Corsi, EA
300 Morgan Ave. Johnston, RI 02919
Office: 401-942-TAXX (8299)
Office: 401-942-0870
Fax: 401-942-8840
Email: dpctax@gmail.com