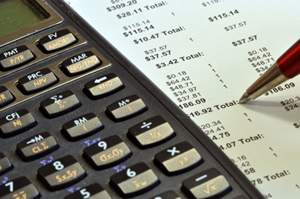 Business Accounting
Throw the books at us!!!  We take care of your books so you can get back to running your business profits up!  Each month or quarter we'll do the following things for you...
These functions are the foundation of your accounting system. You can also customize the services you receive by adding payroll, tax planning, tax preparation, or any of our other services.
Bank Reconciliation
When we do the reconciling for your business you can be certain your bank account, accounting, and taxes are always up-to-date.
Monthly reconciling your account each month allows you to...
Know how your business is doing? You can't really know unless all accounts are reconciled and properly accounted for on your financial statement.
Identify lost checks, lost deposits and unauthorized access to your accounts.
Track checks that have not been cashed
Identify those hidden bank charges.
Identify bank errors and ensure your transactions are posted correctly by your bank.
Prevent embezzlement and collusion within your company.
Income Statement
An income statement, also called the profit and loss statement, is a systematic itemization of your revenues less expenses to determine your businesses profit or loss for a specific period.
An income statement prepared by us will allow you to...
Track revenues and expenses to evaluate your business each period
Know if your business is over-budget or under-budget.
Identify accounts that have unexpected increases.
Be prepared for any income tax liability.
Balance Sheet
A balance sheet gives you a snapshot of your business' financial condition at a specific moment in time.
A balance sheet will help you...
Understand your businesses financial strengths and weaknesses.
Track your receivables more effectively and know if they are going up or down to determine a more aggressive collection strategy.
Track your liabilities to effectively manage your line of credit or vendor payments to eliminate a cash shortage.
Determine your businesses potential to expand.
An Income Statement together with a Balance Sheet will give you the advantage of knowing where your business is going.  They will provide critical information to potential lenders such as banks, investors, and vendors who are considering how much credit to grant you.

General Ledger
The general ledger is the center piece of your company's transactions.  Since all transaction flow through the general ledger, any problem or omission within your general ledger will throw off all your books and result in incorrect financial statements.
We will review your general ledger system monthly and identify discrepancies such as double billings or any unrecorded payments so your books are always accurate and kept in tip top shape.
Call Us Anytime
We are always available to speak to with you so you can fully understand the financial information provided. Our consultations will be included in our price, so please feel free to call us whenever you have a question or concern.
For a nominal fee, onsite meetings can be arranged for detailed assistance with any services we offer.
If you'd like to receive a Free Consultation on our Small Business Accounting Service, please complete this form.